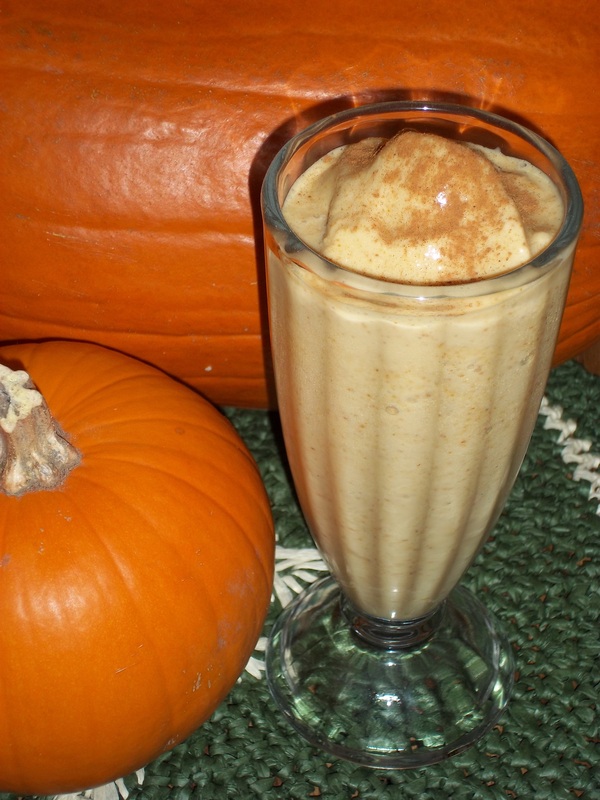 Pumpkins are one of the most inexpensive,
nutritious
vegetables around... right now they're under 20 cents per pound where I live. One cup (8 oz.) of pumpkin has more than 700% of your daily Vitamin A needs, 7g fiber, 3g protein, 19% RDA for iron, 17% RDA for Vitamin C, and 6% RDA for calcium. All this for 83 calories and about 10 cents.
We grew a few, but the garden was pretty sad in general and we ended up buying a couple for our annual pumpkin-carving party at Grandma's house. (To tell you how bad the garden was... the only pumpkins that survived were in the SANDBOX, where one son had spilled some pumpkin guts in late spring. Yeah. Go figure. They even survived our free-roaming chickens.)
So now we have several carved jack-o-lanterns to set on the front porch for Trick-or-Treating. The day after Halloween they'll get cleaned, sliced, and either cooked or dehydrated and
turned to powder
. My kids are excited at the possibilities. Their favorite is pumpkin pie, but this shake tastes just like it, in a fraction of the time!
Pumpkin Shake1 pint vanilla ice cream
(about 4 heaping ice cream scoopsful)
1 1/2 c. milk1 1/2 Tbsp. pumpkin powder
*
1/4 tsp. pumpkin pie spice
OR 1/8 tsp. cinnamon plus a dash (to taste) each ground cloves, ginger, and/or nutmeg
2 Tbsp. brown sugar,
OR molasses, OR honey
Put all ingredients in a blender and mix on high until smooth. Makes about 3 1/2 cups.
*If you don't have pumpkin powder, use 1/2 cup plain pumpkin puree, and reduce the milk to 1 cup instead of 1 1/2 cups.
Optional mix-ins:
2 Tbsp. raisins (add before pureeing so they get finely chopped)
2-3 oz. cream cheese
2-4 Tbsp. chocolate chips
Get this recipe and many more ways to use pumpkin, free, from
The Great Pumpkin Cookbook
.