These make great little gifts. I gave these out during the holidays, when most people are short on time and have had enough 'goodie plates'. If you want to give them something extra, also include a bottle of syrup (homemade or storebought) or a couple different mixes in a basket.
Back on 10/27/2010 I wrote a post on
making vegetable powders
. Here's one kind you can make- pumpkin powder! The recipe below uses it to make some fragrant, fresh pancakes. You can also adapt any recipe that calls for pumpkin puree. I've made pumpkin pie with the powder, and it turns out great.
1/3 cup pumpkin powder plus enough water to give you one cup
is all it takes to make a cup of pumpkin puree. Most recipes won't require rehydrating the pumpkin first, either. Just mix everything together, and the powder will rehydrate while it cooks.
This mix is just a really large batch of "
Foolproof Pancakes
" (also from the 10/27/2010 post), made so you only need to add eggs and water.

Pumpkin Pancake Mix
½ cup coconut oil (shortening works too, but I don't use it)

1 ¼ c. brown sugar or raw cane sugar
¼ c. cinnamon
1 ½ c. pumpkin powder
3 c. powdered milk
1/4 c. baking soda
¼ c. salt
13 c. flour ( ½ wheat, ½ white)
Mix together the coconut oil, brown sugar, and cinnamon. Stir in everything else. Store in a container with a tight-fitting lid. Makes about 20 cups.
To use it, combine 1 1/3 c. mix, 1 egg, 1 cup water. You'll get about 15 batches this size from the whole mix.
I made up a smaller bag with 2 2/3 c. mix, which is 12 ounces if you like to weigh things. The instructions to use the whole bag is to add 2 eggs and 2 cups of water.
My bigger bag has 4 cups mix, about 17 ounces, and mixes with 3 eggs and 3 cups water. For a ready-made label, click here.

* * * * *
The amount of pumpkin is based on using roughly 1/2 cup of pumpkin puree for a 1-cup-of-flour batch of pancakes. So if you don't have pumpkin powder, omit that ingredient, use just under 1 1/4 cups of mix, 1 egg, 1/2 cup fresh pumpkin puree, and reduce water.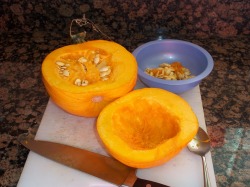 To make pumpkin powder, first wash (but don't peel) the outside of a pumpkin. Scoop out the seeds.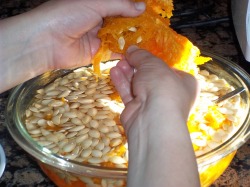 The seeds are great themselves. I find them easiest to separate from the stringy fibers by putting them in a bowl of water. Pinch the seeds off into the water. Dry them for a couple weeks and save them for planting in next year's garden, or roast them with a little oil and salt.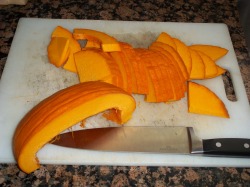 Trim off the stem and the blossom end. Slice the pumpkin lengthwise into pieces about 2" wide. If you steam them now, the pumpkin will dehydrate in about half the time, and have a mellower, sweeter flavor. Let cool enough to handle, then cut them about 1/4- 3/8" thick crosswise.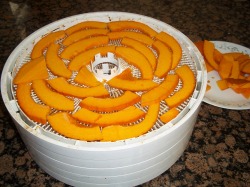 Lay the thin pieces in a single layer on a dehydrator try, or on a windowscreen laid down in a hot car, or on a cookie sheet with the oven on lowest setting... whatever you have. When crispy-dry, put the pieces in a blender and puree until powdered.
This 5-lb pumpkin dehydrated down to just under 7 ounces, which measured 1 1/2 cups. Not a bad space saver! It takes just 3 Tbsp of this powder to equal 1 cup of puree, after adding water.
Use it in anything that calls for pumpkin; you don't even need to rehydrate it first: just add the right amount of water and powder. Try
Pumpkin Shake!
Or how about a
gluten-free, dairy-free Pumpkin Cheesecake
?
Pumpkin Pie
?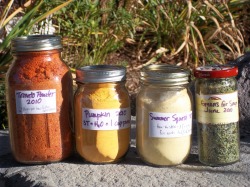 A rainbow of dehydrated vegetables: from left to right: tomato powder, pumpkin powder, yellow squash powder, and dried & crumbled greens.