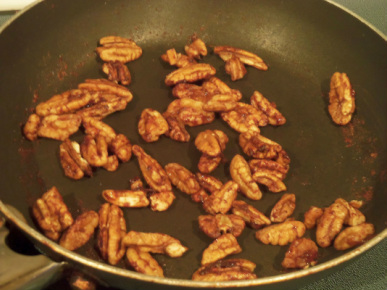 These are delicious in a green salad with sour berries or salty cheese, or just by themselves.
My grandmother has six beautiful pecan trees, ones she and my grandpa planted when my dad was a little boy. When they visited recently, they brought a bagful of their shelled, fresh pecans for each of their adult grandchildren. A treasure. Pecans are my favorite nut; it might be because of the memories of the Christmastime harvest: my dad and uncles high in the pecan trees, shaking the branches while we grandchildren stuffed the fallen nuts into bags. We'd sit around Grandma's big dining room table with some of those nuts and a nut cracker, talking, laughing, and eating those moist, mild nuts. The bulk of the nuts, though, got hauled over to the local nut company, where they machine-shelled them for a fee. A while later Grandma would pick up a now-shrunken bag of the best nuts in the world!
I used pecans in this, but any nut may be used.
Cinnamon Honey Pecans
1 tsp. honey
1 Tbsp. water
dash of salt
1/4 tsp. cinnamon
1/3 c. pecans (a good handful)
Put the honey, water, salt and cinnamon in a small nonstick frying pan. Turn heat on to medium-high. Stir until reasonably mixed. Add pecans and stir until the nuts are coated. Heat, stirring often, until nuts first become dry, then begin to smell a little toasty.
This takes somewhere around 5 minutes but can be more or less, depending on how hot your burner gets and how cold the nuts were. (I keep mine in the freezer, so mine always take on the longer side to toast.) If in doubt, take a nut out, blow on it a bit, and eat it. If it has a little bit of crispness to it and tastes delicious, they're done! Remove from heat. Cool completely before adding to a green salad.
These are a perfect ingredient in
Mango Berry Salad
.