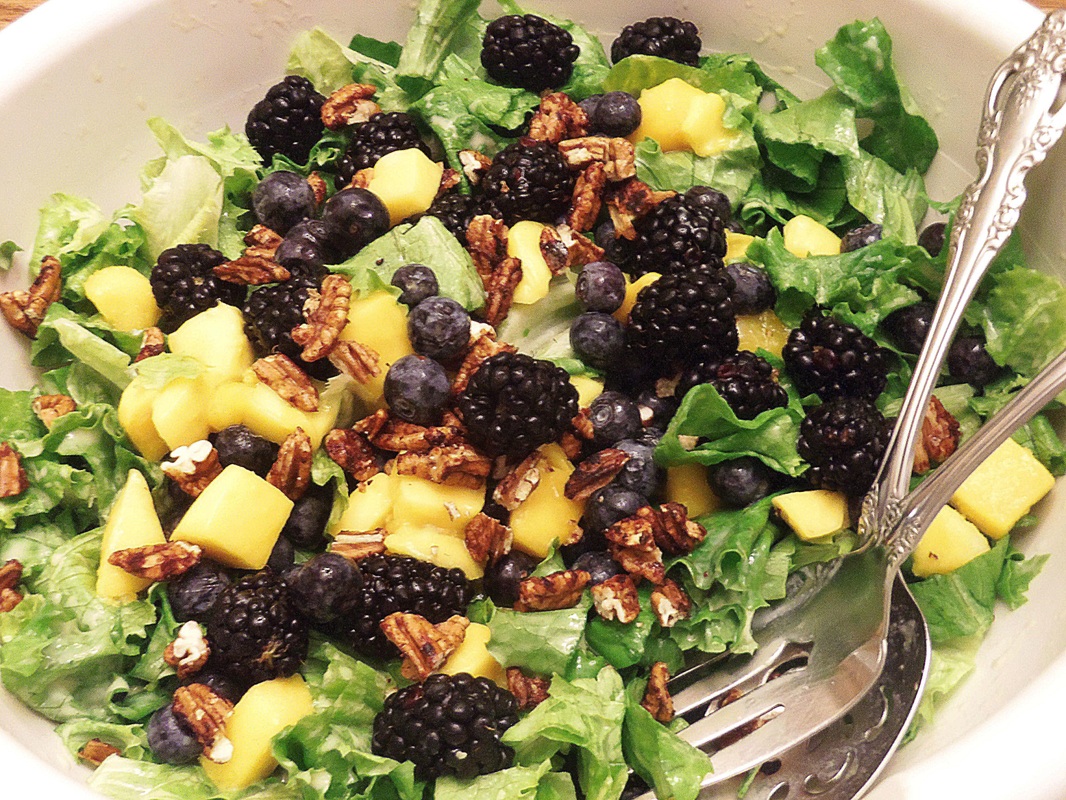 We have a favorite salad... at a local place called Zupas. I found a recipe online that a lady had tweaked a little, and I've tweaked it a little more! The original salad uses strawberries where I used blackberries, but I used what I had: blueberries and blackberries were $.99/cup at
NPS
.
Sometimes DollarTree has frozen mango chunks, 12 ounces for a dollar. The trick is to visit the store within a week of when they get their monthly frozen shipment.
Mango Berry SaladSalad
:
8-10 cups greens (I used green leaf lettuce)
1-2 cups chopped fresh strawberries (or other slightly sour berry)
1 cup fresh blueberries
1 fresh mango, cubed, or 1 cup frozen mango, diced and mostly thawed
1/3 cup
cinnamon honey nuts
Combine in a large bowl in the order given.
Creamy Mango Dressing:
1/2 c.Greek yogurt* (plain or something mild like vanilla)
2 Tbsp. lemon juice or balsamic vinegar
1 fresh mango, pitted and peeled, or 1 cup frozen mango, mostly thawed
1/4 tsp. salt
Combine in a blender until smooth. If too tart, sweeten with a little honey. Makes about 1-1/4 cups. Drizzle about 1/2 cup over salad; toss to coat. Serve salad with additional dressing on the side, or save the rest for another day .
*for a dairy-free option, use coconut cream (NOT cream of coconut, which is sweetened)