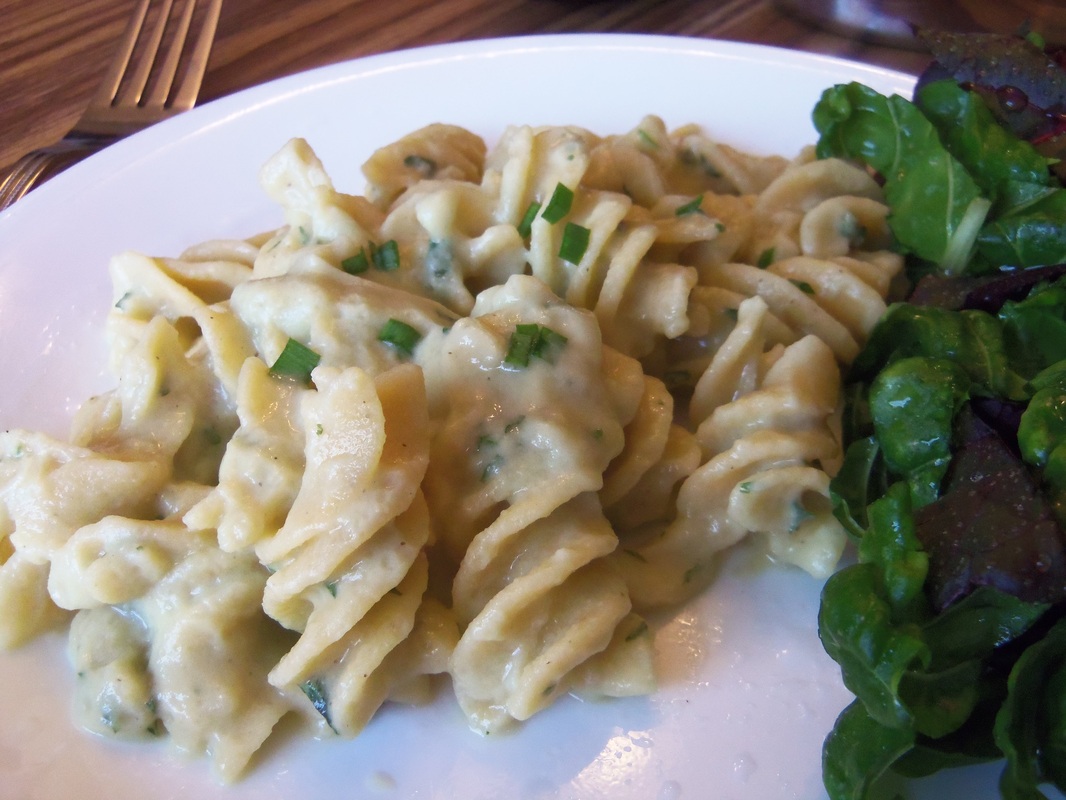 This is meat-free, dairy-free, and in the photo above, also made using gluten-free pasta. Its rich and creamy taste would never make you suspect there are so many 'normal' ingredients missing. You will not taste the avocado, and surprisingly, it doesn't even make the sauce look green. It adds richness along with those healthy, satisfying fats.
If you used canned chickpeas, you'll have about one cup extra; you can either stir those in with the pasta, or save them for another use.
If you don't have an avocado, or don't want to use one, omit it and increase the chickpeas to three cups instead.

12-16 oz. pasta, cooked according to directions; save the cooking water
1 Tbsp. olive oil
3 cloves garlic, minced
2 cups cooked chickpeas- or use 2 cups from two (14-oz) cans, drained
one 6" sprig fresh rosemary, or 1-2 tsp. dried rosemary
1/4 tsp. red pepper flakes
1 medium avocado, peel and pit removed
1 Tbsp. lemon juice
salt and freshly ground black pepper to taste
1/4 c. chopped fresh parsley, or 1 1/2 Tbsp. dried parsley

While the pasta is cooking, heat 1 Tbsp. olive oil in a small skillet over medium-high heat. Add the garlic; cook and stir 2-3 minutes or until fragrant.

In a blender, combine 3 cups of the pasta cooking water (may also use the water drained off the cans of chickpeas), chickpeas, rosemary, red pepper, avocado, and lemon juice. Blend on high until smooth. Add salt and pepper to taste (start with 1/2 tsp. salt), and stir in parsley.
Pour over pasta and toss to coat.
If the sauce is too thick, add water 1 Tbsp. at a time until it's the consistency you like.